COMPANY PROFILE
The evolution of Stone Logic the company is a culmination of over 20 years experience in tiling and learning to tile and work side by side with his father, giving Gabriel Gomez the foundation, the expertise and work ethic of a previous generation that is practically non-existent in our turbulent times.
After a constant string of successfully completed projects, Gabriel formed the Company in 2004 to provide Perth residents and businesses with a luxury tiling service like no other.
OUR SERVICES
OUR DIFFERENCE
Quality of Work – what separates Stone Logic from other tilers is the quality of our work and impeccable attention to detail. There are few tilers in WA that can match the finish you get with a Stone Logic tiling solution. Many of the projects we have undertaken have won industry awards and we are proud to associate and put our name to these successful companies and developments. (award winning projects and companies where the tiling installation was by Stone Logic).
Speed of Work – a top quality tiling finish is great but you should not have to wait weeks or months for it to be complete. Time is a critical factor that affects everyone and we excel at overcoming delays and focus on exceeding our clients' expectations.
Professionalism – we pride ourselves on the professional manner in which every contract is undertaken, and understands the unpredictable nature of the building and construction industry. By working very closely with architects, project and site managers, we believe that clear and regular communication ensures the smoothest and most time saving path to completion.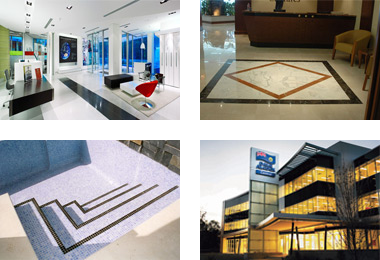 PAST PROJECTS
Dale Alcock Head Office Building, Osborne Park
Overton Garden, Cottesloe
Emirates Lounge, Perth Airport
Qantas Club Lounge, Perth Airport
Burswood Casino Convention Centre, Burswood
Westfield Whitfords Shopping Centre, Whitfords
Westfield Carousel Shoppig Centre, Carousel
Commonwealth Bank, St Georges Tce, Perth
Council House, St Georges Tce, Perth
Joondalup City Library, Joondalup
Botanica Bar, Innaloo